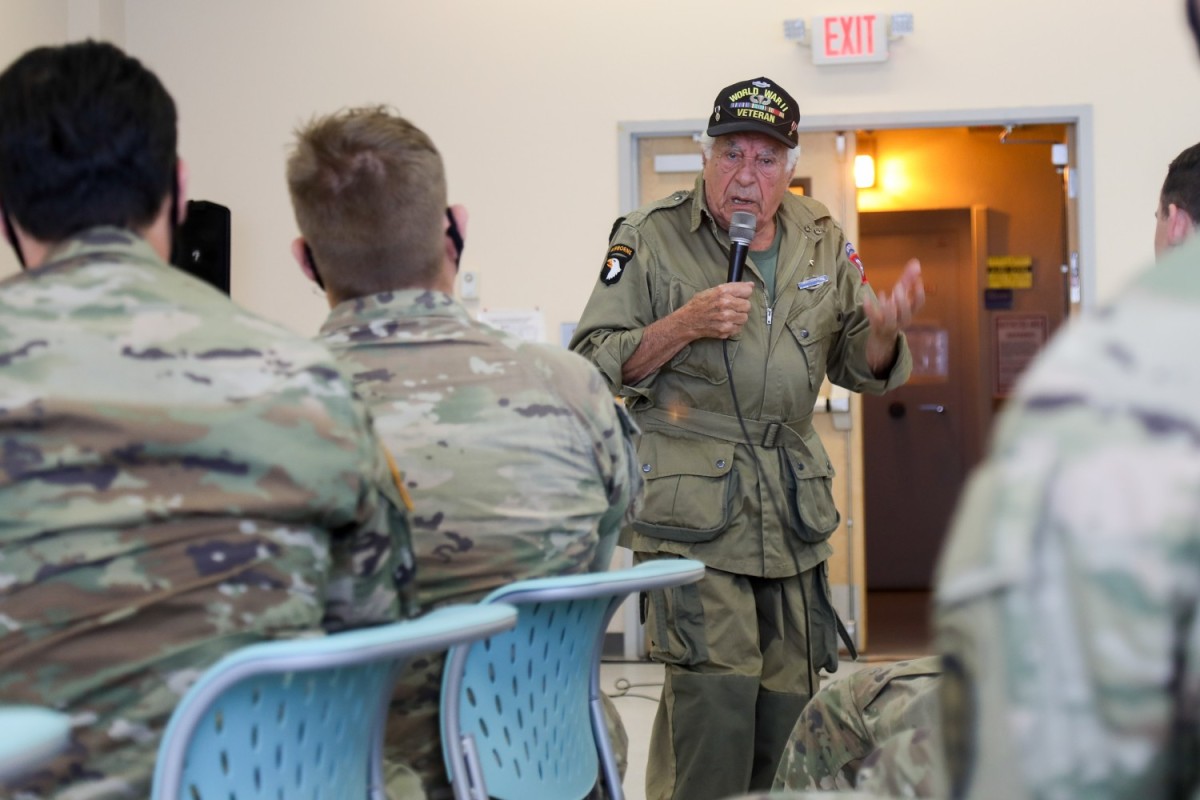 WWII Veteran Visits Alaskan Paratroopers | Item
JOINT BASE ELMENDORF-RICHARDSON, Alaska – Vincent Speranza, WWII paratrooper, machine gunner, Bastogne legend and storyteller, visited the Spartan Brigade this week.
Speranza served with H Company, 501st Infantry Regiment of the 101st Airborne Division, and fought in the Battle of the Bulge in Bastogne and then in Germany before the end of the war.
He traveled to JBER to meet and share stories with Paratroopers from the 1st Battalion, 501st Parachute Infantry Regiment, an infantry battalion that has its roots in the Speranza unit and is currently part of the 4th Infantry Brigade Combat Team (Airborne), 25th Infantry Division, at JBER.
"It's hard for me, a first-class private class, to give leadership advice to soldiers who are already more experienced," Speranza said. "But I can share my experiences and relate them as if they were on the battlefield."
Speranza was enlisted in 1943 as an infantryman and volunteered for a parachute school after seeing an airborne training jump for the first time.
When German forces broke through the Allied lines in the Battle of the Bulge in 1944, Speranza and his fellow paratroopers were trucked to the front lines.
They had to contend with extremely cold temperatures and frozen ground, which the paratroopers of the Alaska-based 1-501st PIR could relate to after months of training in the harsh Alaskan winter.
Like Speranza, Spc. Ryan Lindsley is also a machine gunner, currently assigned to the Comanche Company, 1-501st PIR.
"I feel like I identify with him the most about the camaraderie and always looking out for each other," Lindsley said. "No matter how difficult things get, there is always something to look forward to; and in a terrible situation, there is always a way to find the bright side, to bring out the best in everything.
Speranza is perhaps best known for bringing his wounded comrades a helmet full of beer while they were under siege in Bastogne. This story led a local brewery in Belgium to create "Airborne Beer", served in ceramic mugs shaped like American GI helmets.
"It's hard to live up to the expectations, and fill shoes of this size, from a man who left such a great legacy," Lindsley said. "When your foxhole mate wants a beer, you give him a fucking beer."
Towards the end of the war, Speranza and his parachute comrades discovered a Jewish concentration camp that included mass graves and ovens used to cremate the dead.
Speranza said the images and experiences of that day will live on in his mind forever.
When his unit reached Adolf Hitler's infamous "Eagle's Nest", Speranza saw a map depicting the Axis Powers' plans for post-war victory where the whole world was divided between governments. German, Italian and Japanese.
"If anyone ever doubted why we had to fight this war, here it is on the wall," Speranza said.