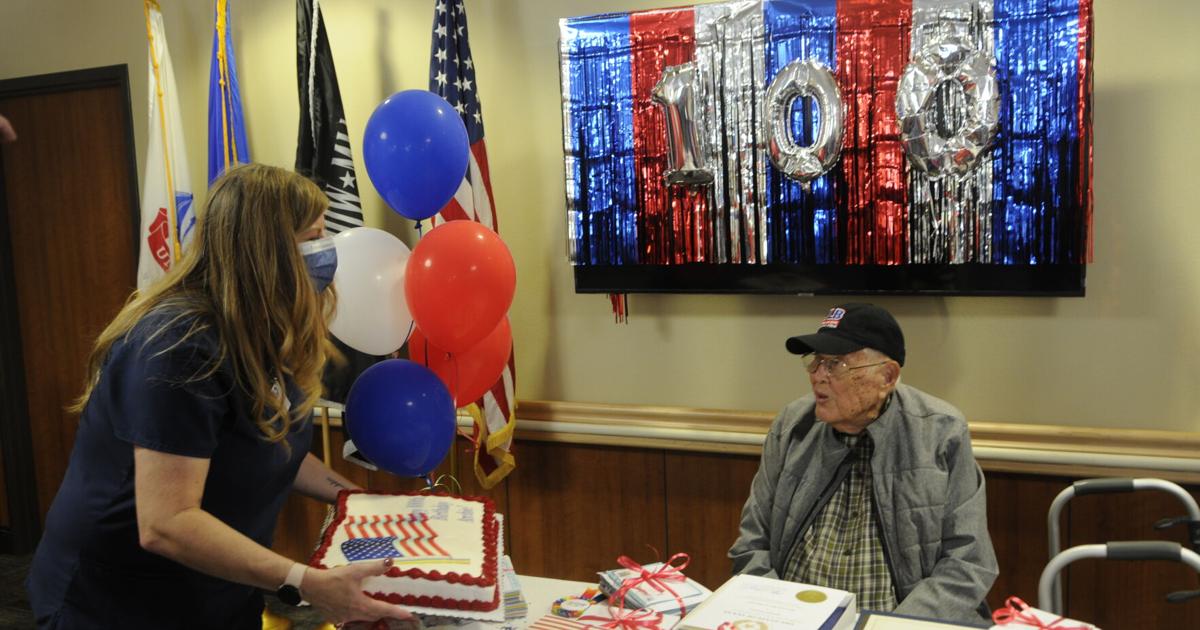 WWII veteran celebrates 100th birthday honored with proclamation | New
In his 100 years, Archie Thomas has definitely lived a life worth telling.
A large crowd gathered to celebrate his birthday Wednesday at the Watkins-Logan Texas State Veterans Home in Tyler.
Thomas, who said he wasn't expecting big gifts for his birthday, received a resolution in his honor from Sen. Bryan Hughes (R-Mineola), along with a Texas flag flying above the state capital.
He also received approximately 800 letters from across the country from veterans and veterans organizations congratulating him on this milestone.
"I have a lot to be grateful for," Thomas said after receiving his awards. "I have no words that can adequately express my gratitude to everyone who contributed to this."
A veteran's life can be full of obstacles. Wars and death are some of the things that those who serve the nation are exposed to once they make the decision to put pen to paper and sign up for service. Thomas faced many challenges during his time in the military.
Thomas' history with the military began in 1942 when he made one of the biggest decisions of his life, enlisting in the army corps as a gunner on a B52 aircraft.
He would go on to serve as a trash gunner, radio operator, aircrew photographer, member of the United States Eight Air Force's 44th Bomb Group and the 67th Bomb Squadron during his three years in the military.
"There are aging men and women who served in World War II, so when we have the chance to honor them, we do," Hughes said.
Shortly after enlisting, Thomas was deployed to Germany for World War II where his life would change forever.
Thomas and his crew of 10 were flying over enemy territory when they were shot down by German soldiers. With the plane in critical condition, Thomas was forced to jump from the plane approximately 500 feet above the ground.
He was the sole survivor of this 10-man crew.
"Part of the reason I'm here is because of my crew members, so I'm here to recognize them as well," Thomas said during his birthday celebration.
Soon after, he was captured by enemies and forced to walk long distances without eating and without knowing when he would be returned to the United States.
Thomas remained in Austria as a POW for 13 months before returning to the United States. He was discharged from the Army Air Corps in 1945.
He was also recently honored with a POW medal and a Purple Heart.
"I've never worn the uniform, but I can say I've enjoyed the richest wealth of the American Dream," Hughes said. "If we think about our system of government and all the freedoms we have, it's because of what men like him have done during his years of service.
District 5 State Representative Cole Hefner said the state will continue to host these types of events whenever possible to honor those to whom the honor is due.
"To me it is a blessing and an honor to be able to know and meet a gentleman of this stature," Hefner said. "We want to help shine a light on these people who have done so much for our country."
After his time in the military, Thomas worked for North American Aviation for 32 years.
He currently lives at the Watkins-Logan Texas State Veterans Home where he enjoys sitting on the porch, talking to visitors, playing the organ and singing patriotic songs.