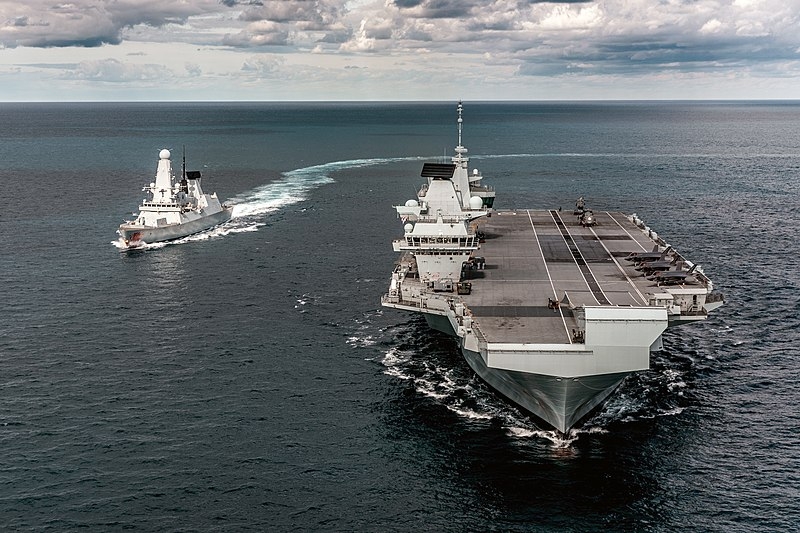 World War 3: British aircraft carrier makes first stop in Japan amid tensions in the region
Tensions between Asian countries have raised fears of the outbreak of a possible world war. As fears persist, the West seeks to stabilize relations on the continent as Britain's HMS Queen Elizabeth made its first stop in Japan this week.
HMS Queen Elizabeth moored at the US Naval Base to Yokosuka, who is guarding Tokyo Bay this week. The arrival of the aircraft carrier marks a turning point in relations between the two countries, with the UK reaffirming its commitment to protecting interests in the South China Sea and its position to deter growing aggression from China. It comes as China takes bolder steps by increasing its forays into Taiwanese airspace as it seeks to pressure Taiwan to accept Chinese sovereignty over the island nation.
Besides Taiwan, China has also claimed the South China Sea, which was rejected by a court in 206. The region has also seen disputes between China and surrounding countries which also have claims over the waters.
British Commodore Steve Moorhouse, who commands the Carriers Strike Group, said in a video message on Twitter that the visit was in light of the UK's commitment to strengthen relations in the Indo-Pacific region. Moorhouse also pledged that the carrier strike group's trip would take relations with Japan "to the next level."
The Yokosuka town office has revealed that 1,240 crew members of HMS Queen Elizabeth will not disembark from the ship.
Another issue that has fueled fears of a world war is Russia's ongoing development of nuclear weapons. U.S. Northern Command chief Glen VanHerck warned of the growing threat Russia posed to U.S. security in August. VanHerck said Russia was able to develop capabilities that would not have existed 20 years ago during the Cold War.
These capabilities include the development of strike cruise missiles that could strike the United States from their location. VanHerck also revealed that Allied intelligence services were also aware of Moscow's missile and submarine developments. VanHerck added that investments in cyber and space capabilities only add to the threat posed by Russia.