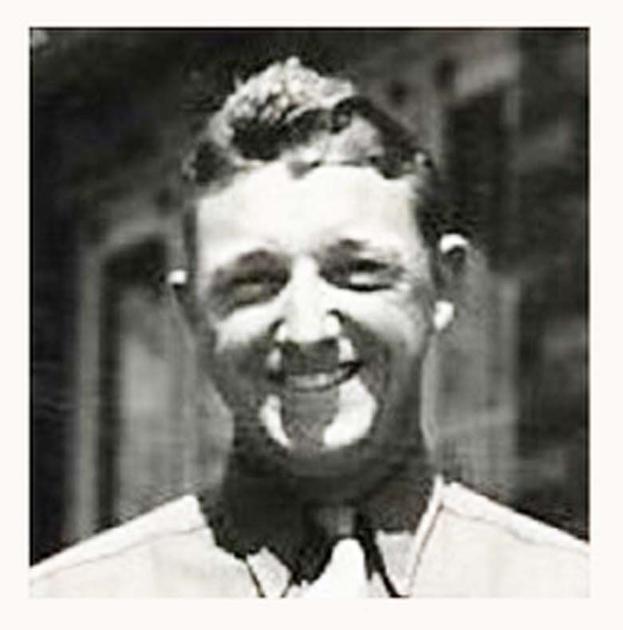 Remains of WWII Soldier Must Be Returned to Gibson City | Military
GIBSON CITY – It always bothered Lyle Brotherton that the body of younger brother Clarence was never found in the brutal battle of Hurtgen Forest in late 1944, as US forces advanced into Germany during the Second World War.
Their nephew, John Brotherton of Rantoul, said Lyle spent a lot of time searching for his brother, a private first class in the US military, after the war.
The research is finally over. Rural Gibson City native's body returns home. He will be buried next month in Gibson City with full military honors. John Brotherton said the date has not been set.
Pfc. Brotherton will posthumously receive the Bronze Star, the Good Conduct Medal, the Combat Infantry Badge, the Victory in Europe Medal and two Campaign Medals.
The Defense POW / MIA Accounting Agency announced Monday that Pfc. Brotherton, 20, was found in April 2020 – three quarters of a century after his death in one of the war's most brutal battles. His family were only recently informed of the identification.
Two photos from this time show the three Brotherton brothers – Clarence, Lyle and John Sr. – smiling in uniform outside their brick house. A couple who are believed to be their parents stand behind them in a photo.
While Lyle was assigned to register the graves – "His job was to go around and pick up the corpses and retrieve their body bags," said nephew John – John Sr. was a mid-gun gunner aboard a B-17 Flying Fortress, but the war ended before it had to go overseas.
He said Lyle stayed in Europe after the war, looking for his brother.
"I think he actually became AWOL," John said. "He went to all the cemeteries and hospitals looking and found nothing. I figured if he couldn't do it with his knowledge of … the intricacies (of the system), he wouldn't be easy to find.
"My cousin said it affected my uncle for the rest of his life. He felt it was an obligation he could not fulfill.
John Brotherton never knew his uncles but learned that Clarence was a calm man.
"He was not a drinker," Brotherton said. "When he went out with his friends he would drink milk and bring the guys home. He was that kind of person. He was their youngest and was kind of protected and beloved.
John Brotherton said his uncles lived with their parents on a farm in rural Gibson City when they were young before the family moved to town when the Great Depression was at its height.
He said the long wait for news of his uncle's remains caused great grief for the family.
Pfc. Brotherton was assigned to C Company, 1st Battalion, 60th Infantry Regiment, 9th Infantry Division. He was killed in action on October 14, 1944, while his unit was fighting German forces near Germeter, Germany. His remains could not be recovered due to the ongoing fighting.
John Brotherton said his uncle was declared legally dead in 1951.
The American Graves Registration Command was tasked with investigating and recovering American personnel who disappeared in Europe after the war. He could not identify Pfc. Brotherton's remains despite conducting several surveys in the Hurtgen area between 1946 and 1950.
A rupture occurred when a historian working for the POW / MIA Accounting Agency was studying the unresolved American losses in the Raffelsbrand area and discovered that two sets of unidentified remains intermingled had been recovered in that area in 1946 and were possibly related to Pfc. Brotherton.
The remains were buried in the Ardennes American Cemetery in eastern Belgium in 1950. They were exhumed in September 2017 and sent to the agency's laboratory at Offutt Air Force Base in Nebraska for identification. Dental and anthropological analyzes as well as circumstantial evidence were used alongside analysis of mitochondrial DNA to identify the remains.
Pfc. Brotherton's name is among those that appear on the walls of the fallen at the Dutch American Cemetery and Memorial at Margarten. A rosette will be placed next to it to indicate that it has been taken into account.
The bloody battle of Hurtgen Forest took place from September 19 to December 16, 1944 and preceded the German offensive known as the Battle of the Bulge. It occurred over an area of ​​52 square miles east of the Belgian-German border and was the longest battle on German soil during the war and is still the longest battle the US military has had. never conducted.
At least 33,000 – and possibly as many as 55,000 – American soldiers have been killed and wounded. German losses are estimated at 28,000. While the United States eventually took the region, the battle was considered a German victory due to heavy American losses.
In addition to German troops defending their homeland, conditions were exacerbated by dense forest, rugged terrain, and cold, wet, and cloudy weather, resulting in a muddy quagmire.
The Germans had prepared the area, which was essentially the Siegfried Line, with minefields, barbed wire, traps, concrete bunkers and blockhouses.