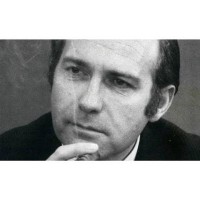 Realscreen » Archive » Channel 4 orders Cold War spy documentary from Firecrest, Typer
Channel 4 has commissioned a documentary covering the life and alleged spy career of former Labor minister John Stonehouse for its 'Secret History' feature, the broadcaster announced on Wednesday (April 27th).
Co-produced by Firecrest Films and Typer Productions, the documentary chronicles how allegations emerged that Stonehouse (pictured) colluded with the Czech security service at the height of the Cold War, how successive prime ministers chose to publicly deny the allegations that he was a spy, and how it was decided to "drop the case" when these accusations were confirmed by a Czech defector.
The film will feature never-before-seen testimonies from people close to the story, as well as archival documents, motion graphics and actors giving written testimonies from the Czech Security Service files on Stonehouse and from the UK government archives at the Archives. national.
Shaminder Nahal, Channel 4's chief fact-and-orders editor, said the documentary revealed new evidence surrounding the espionage allegations and called the film a mixture of politics, celebrity, mystery and media frenzy.
Keely Winstone is directing and producing the film, with Iain Scollay and Matt Paice executive producing.