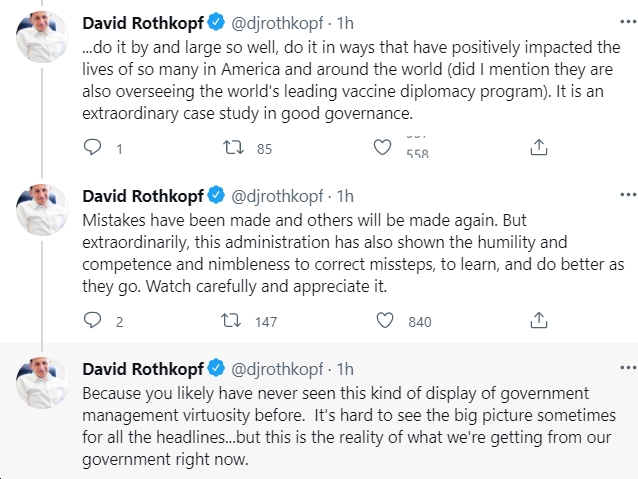 "Not since World War II have we seen a government mobilize so widely, do so much … do it overall as well"
Very, very well said by David Rothkopf – former Assistant Under Secretary of Trade for International Trade Policy and Development, Acting US Under Secretary of Trade for International Trade, member of the Council on Foreign Relations, taught international affairs at the Paul H. Nitze School of Advanced International Studies at Johns Hopkins University, Graduate School of International and Public Affairs at Columbia University, etc., etc.
"At the moment, the administration is carrying out a massive operation in Kabul which resulted in the evacuation of 50,000 people in eight days. He is also overseeing a battle to the death against COVID that has already resulted in more than 200,000,000 Americans receiving the vaccine.
He is also in the midst of negotiations to pass a $ 1 trillion infrastructure bill, the largest the United States has passed in decades. He is also, at the same time, on Capitol Hill, involved in negotiations to pass a budget of 3.5 trillion dollars.
Together, these two Congressional initiatives would lead to the largest investment America has made in itself and in projects vital to our national security and well-being in more than half a century.
…The Department of Justice is working on hundreds of cases related to the attempted coup against the United States government on January 6 while actively carrying out programs aimed at reducing the future risk of domestic violent extremism.
The DoJ has also made it a priority to fight a nationwide campaign to suppress voters by the GOP and abuse in the country's police services. Elsewhere, the government has launched an unprecedented campaign to tackle the climate crisis, its consequences and to undo widespread efforts to endanger our environment. Part of the effort to get out of Afghanistan is to step up programs to help the Afghans who have helped us find refuge in our country – programs that were closed, coldly stopped, under the Trump administration.
At a time, the administration is also trying to repair the damage caused by their predecessors on the southern border and the vice-president was instrumental in seeking the restoration of programs that would reduce the flow of migrants to their sources in Central America.
Besides, the administration appoints judges faster than its predecessors and does so in a way that brings unprecedented diversity to the country's courts after years of opposition efforts to fill these courts.
Also, it's not just about doing all of these things – all of these big, complex, urgent, essential things – at once, but it's doing them against a scorched earth opposition that doesn't care who dies, whether they're telling the truth or lies, or whether the national interest is protected.
… This extraordinary list – which, on top of all that, is being conducted amid overseeing the most extraordinary period of economic recovery in American history, the most jobs ever created in the first six months of 'a presidency – is in progress and on the whole. now in deeply difficult circumstances by President Biden, Vice President Harris and their team. Watch carefully. Never since World War II have we seen a government mobilize so widely, do so much … do it so well overall, do it in a way that has positively impacted the lives of so many in America and around the world (did I mention they also oversee the world's leading vaccine diplomacy program). This is an extraordinary case study in good governance.
Mistakes have been made and more will be. Corn extraordinarily, this administration has also shown humility, skill and agility in correcting missteps, learning and doing better as we go. Watch carefully and enjoy it. Because you have probably never seen this kind of demonstration of virtuosity in government management before. Sometimes it's hard to see the big picture for all the headlines… but this is the reality of what we are getting from our government right now.
I would just add that here in Virginia, under Democratic leadership, we also saw "an extraordinary case study on good governance" and a "demonstration of virtuosity in government management ", in the face of Trump's nightmare, the COVID pandemic, a Republican party moving towards extremist authoritarianism, and so on. Put the Democrats in the driver's seat, and that's what you get. In the meantime, you don't have to look far to see the opposite … just remember the Trump administration, which was insanely incompetent, corrupt, etc., and also look at disastrous examples in various states (Florida, Texas, etc.) Republican bad governance. At this point, how anyone could vote Republican is truly mind-boggling …